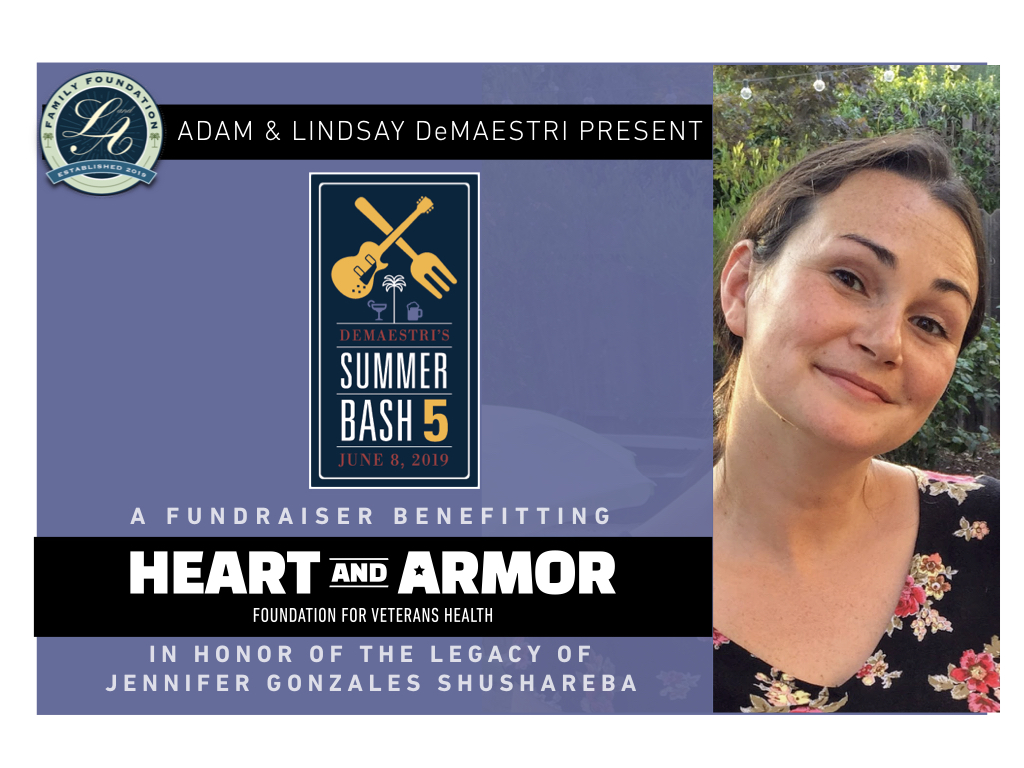 Honoring Jenn / Helping Veterans
A legacy of service to those who served
Jennifer Gonzales Shushareba was taken from us on March 9, 2018. She was a brilliant psychologist and irreplaceable spirit, who cared for veterans with mental health issues in the weeks, months and years after military service.
With profound grace and strength, her parents Mike and Kathy and her husband TJ have teamed with the Heart and Armor Foundation to honor her by creating new veterans support work in her name. This portfolio will expand resources for veterans with Posttraumatic Stress Disorder (PTSD), create new services for veterans adjusting to the educational setting, and offer opportunities to civilians who wish to connect with veterans and understand their vulnerabilities and strengths.
Heart and Armor was founded by musician John Mayer and many of Jennifer's friends and colleagues in March of this year. Jenn's coworkers are as determined as they are devastated- committed to continuing her legacy of brilliance, service, kindness and innovation with a special portfolio of work dedicated to her.
We at the Heart and Armor Foundation are deeply grateful to Adam and Lindsay, and to their friends and guests, for honoring Jennifer at their first foundation event. We also send our gratitude to TJ, Mike and Kathy, truly wonderful and strong human beings with towering, indomitable spirits. We love them so much, we miss Jennifer so much, and we are grateful for your support as we carry on in her name.
To contribute, please follow this link: DONATE
To learn more about Heart and Armor's public work:
Women Warriors Launch Event, March 2019: Click here
Memorial Day with Willie Mays, May 2019: Click here